(a) Campus :
The S. Kula Women's College is situated in a serene, pollution free, ego-friendly environment, away from hustle and bustle city life and noisy roads, 15 km. away from Imphal City towards the south.
It is spread over 8.76 acres of beautifully designed and landscaped campus which is a visual delight.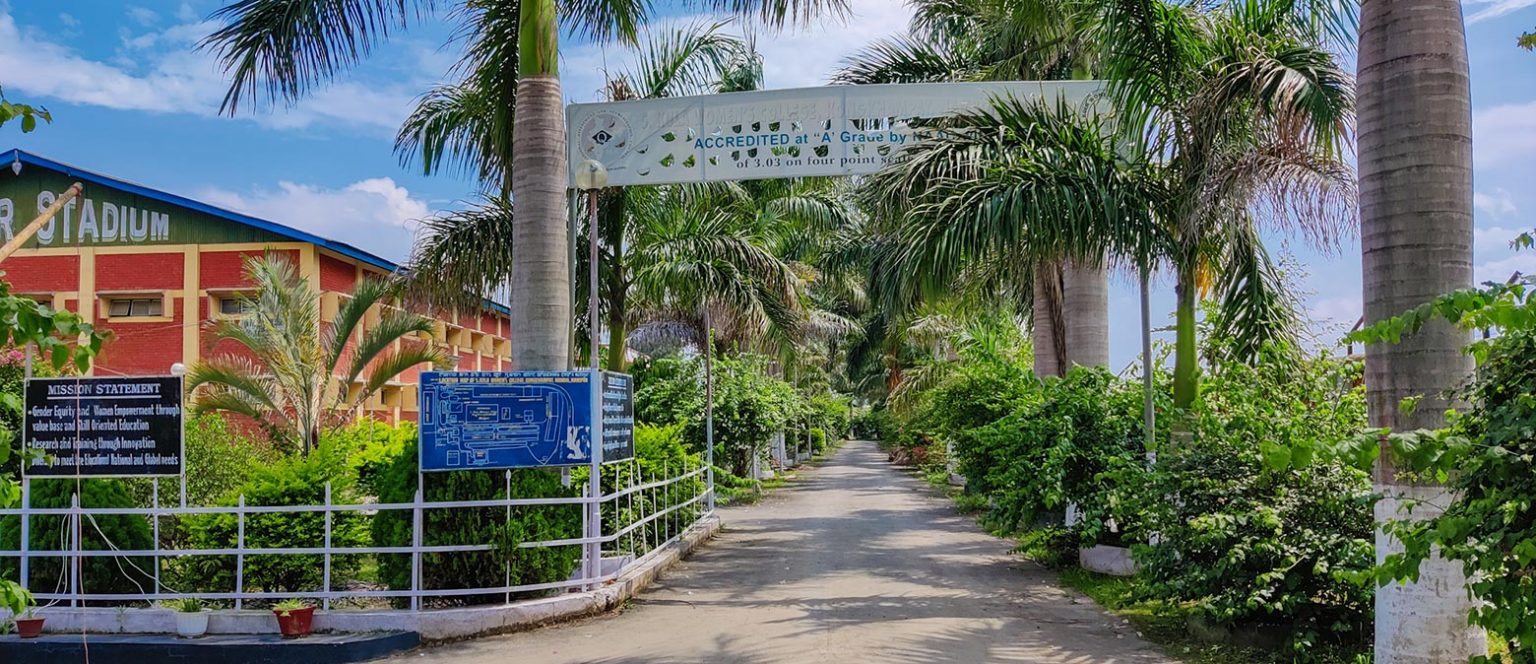 (b) Library :
The College has a well stocked Library and Reading Room with Magazines, Journals and Periodicals. The college has subscribed more than 2100 e- journals and more than 51000 e-books through N-LIST Programme under the National Mission on Education through ICT supported by the Ministry
of Human Resource Development. Books covering various subjects are available for issue. An efficient system of turn over is being implemented which ensures regular intake of the latest reading materials. The Library is under the supervision of an experienced and Qualified Librarian. The Library is automated with 2.0 SOUL Software Network Version. Adequate number of Computers with Internet
facilities are available in the Library. The Library also maintains an Information Center.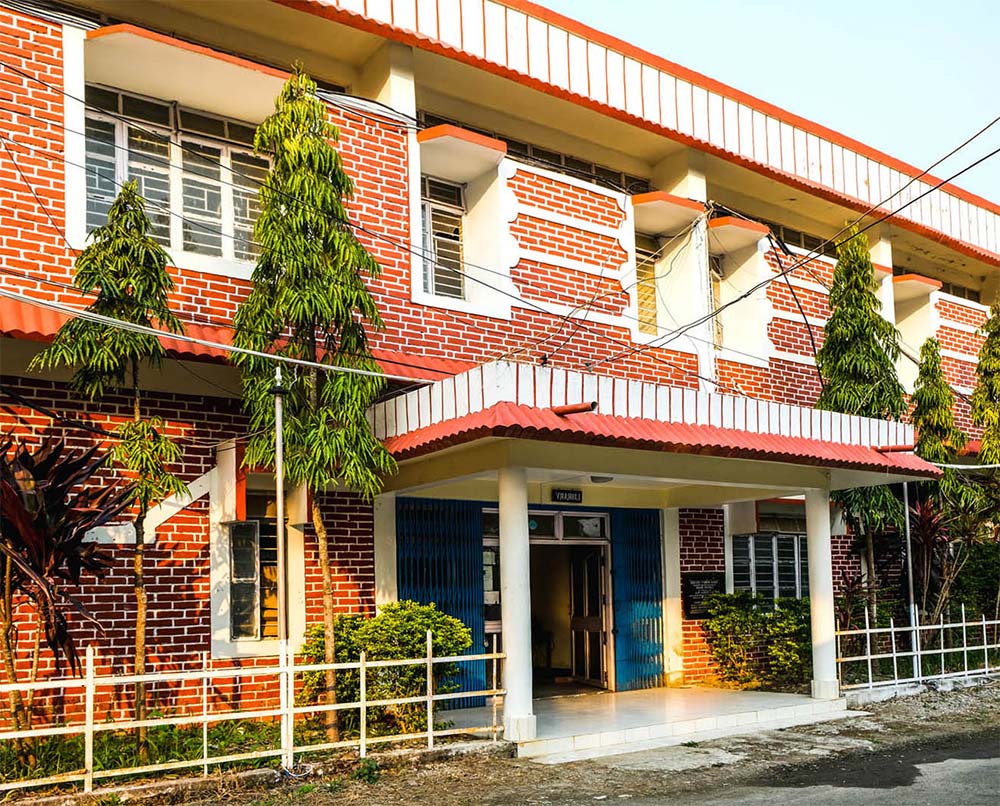 (c) Class Room:
The College has adequate number of modernised Classrooms provided with Smartboards, UST/LCD Projectors and Computers with Internet Facilities. In fact the college has adopted 100% e-teaching, learning process.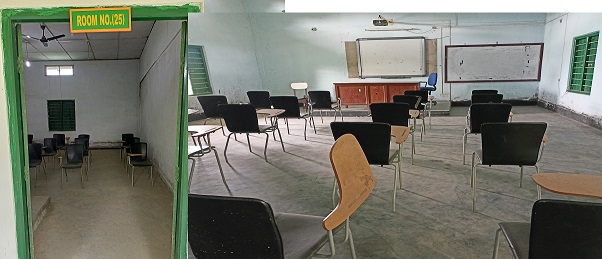 (d) Laboratories:
The College has well furnished and well equipped modernized Laboratories including Computer Science, Home Science, Food Science, Fisheries, B i o t e g h n o l o g y , Bioinformatics, Multi- media Language Laboratory where there are facilities for UST Projectors, Slide Projector, CCTV attached Advanced M i c r o s c o p e s , Microprocessor based Gas Chromatograph, Atomic Absorption Spectrometer, HPLC,UV-VIS Spectrophotometer, Food Processing Machineries, High Speed Refrigerated Centrifuge, Food Processing Machineries, B.O.D. Incubators, Laminar Air Flows, Deep Freezers, ELISA Readers, Projection Microscopes, Phase Contrast Trinocular Microscopes and Binocular Research Microscopes, Fume Hood etg. Micro-technique methods of analysis are introduced in the Laboratories. The Computer Center, Gas Chromatograph room, Culture Rooms, Bioinformatics Center, Bio-Tech Hub, AAS Room, Central Instrumentation Center are all air conditioned.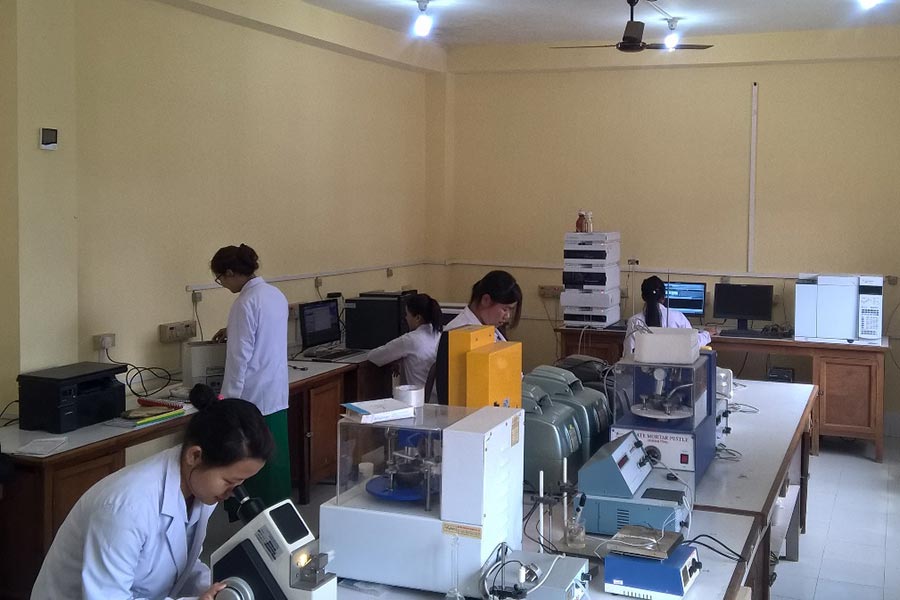 (e) Networking :
The College has Campus a Wifi Campus supported by Reliance Jio and Networking with Local Area Network (LAN) with Connectivity through 1:1 dedicated 1Mbps Bharti Airtel.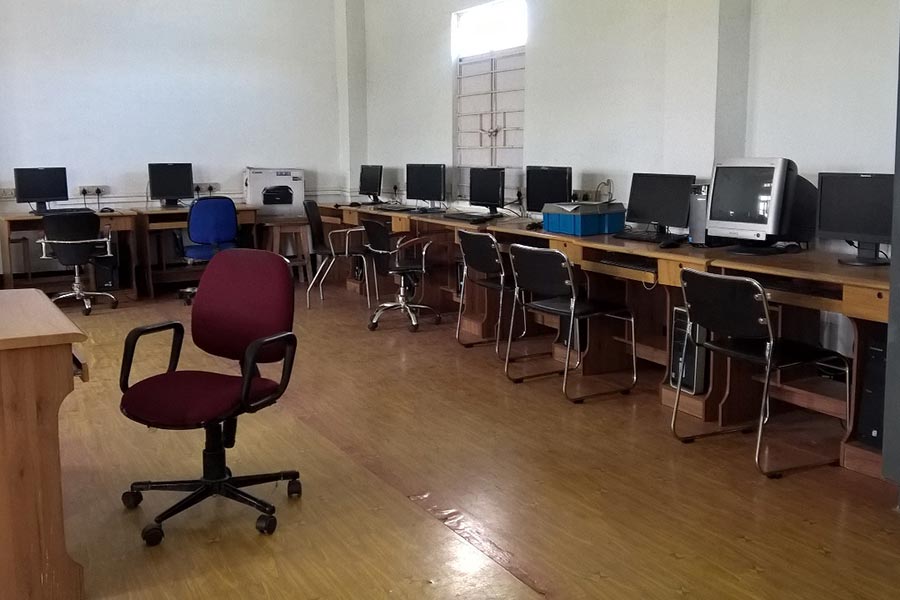 (f) B i o i n f o r m a t i c s Infrastructure Facility Center.
The college has a air g o n d i t i o n e d Bioinformatics Infrastructure Facility (BIF) Center equipped with 30 numbers of Desktops and 3 numbers of High End Server. The center is under the supervision of a Co-coordinator, namely
Dr. W. Robindro Singh who is trained with DOEACC "A" Level in Bioinformatics. Two Research Assistants, one Traineeship and one Studentship are working in the center for Data Base Development. The BIF Center is supported by DBT, Government of India.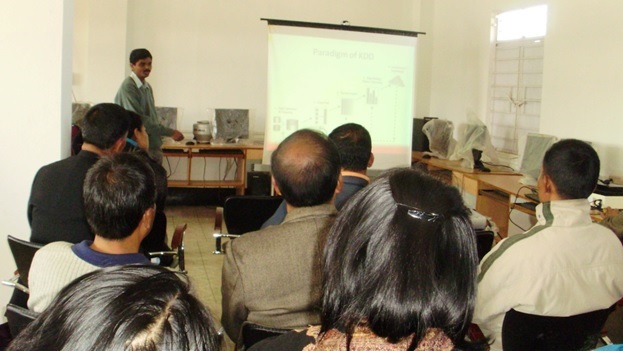 (g) DBT Biotech Hub
The college has established an air conditioned Biotech Hub under DBT, Government of India under supervision of a q u a l i f i e d Coordinator where a JRF is working for Promotion of Research Activities.
The Hub is equipped with a number of sophisticated equipments.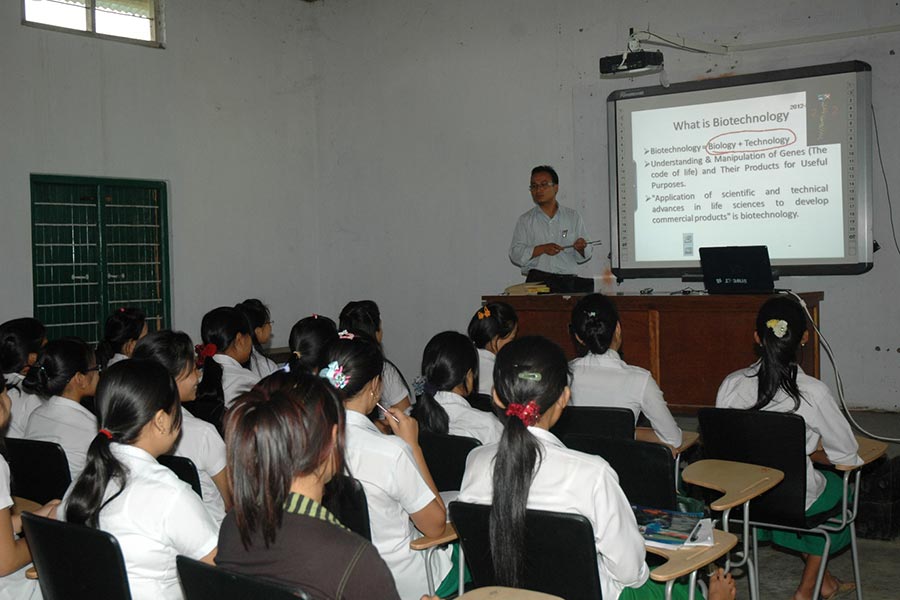 (h) ICT Infrastructure
The college has about 130 numbers of Desktop Computers, 40 numbers of Laptop Computers, 5 Nos. of High End Server, 1 No. of 20KVA online UPS, 2 Nos. of 10KVA online UPS, 5 numbers of 5KVA online UPS, 2 numbers of 3KVA online UPS, 20 numbers of Smart
Boards with UST /LCD Projectors, Campus Networking with LAN, Internet Connectivity from Bharti Airtel and BSNL and a number of Licensed Software. Innovative methods of teaching, learning and evaluation are totally adopted by the college with the help of the above ICT infrastructure. For back up of the power supply the college has two Diesel Generating Sets; one 35KVA and 10KVA and 2 Sets of 25KVA Solar Panel.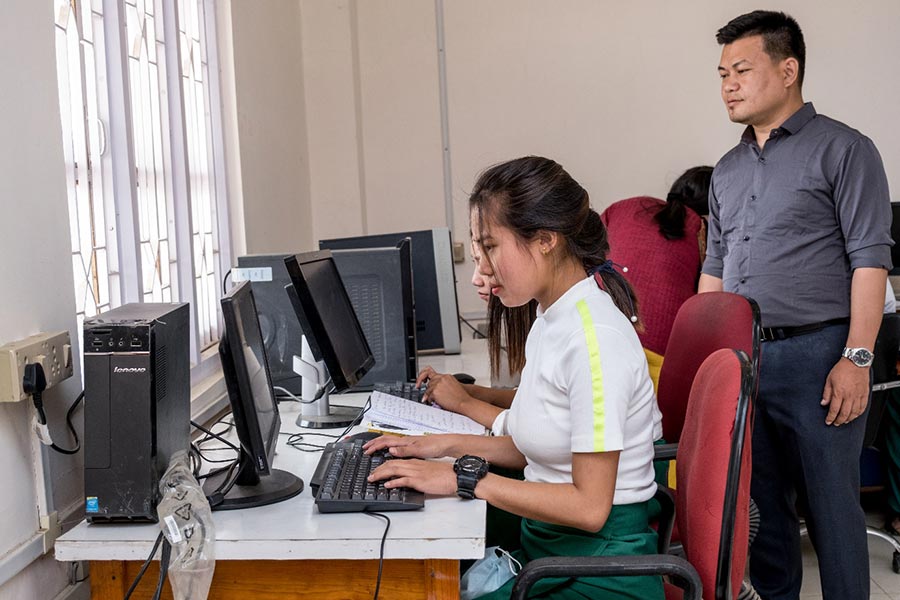 UNIVERSITY GRANTS COMMISSION SPONSORED SCHEMES:
a) Remedial Course :
Remedial Coaching Classes for the slow learners are provided.
Remedial Coaching Classes for SC/ST/OBC/Minorities :
Special remedial coaching glasses are held for Scheduled Caste, Scheduled Tribe, Minorities and OBC students,
g) Remedial Coaching Classes for SC/ST/OBC/Minorities for entry in services:
Remedial Coaching Classes are held for SC/ST/OBC/Minority Students for entry in their services. All the candidates who are not studying in this college can also avail this facility.
d) COHSSIP :
Innovative Programme like Seminar, Creative Writing, Book Review, Field Study, Audio-Video etc. is undertaken under the College Humanities and Social Science Improvement Programme.
e) Courses opened under NSQF (National Skills Qualifications Framework ):
i) Community College: The college has started two-year Advanced Diploma Courses in i) Food Processing & Engineering and ii) Fashion Technology.
ii) B.Voc. Programme: The college has started three year Degree Courses in B.Vog. i) Food Processing & Engineering, ii) Fashion Technology, iii) Information Technology and iv) Catering and Hotel Management.
f) Vocational Education: Vocational Training has been provided to the students about Food Processing and Preservation, Fisheries, Dress Making, Computer Applications etc. under the Vocational Education programme. The College arranges educational tours to plages of historical and educational interest inside and outside Manipur as a regular feature of their studies.
g) Extension Education/Field Action Poogramme :
It is an innovative programme taken by the College to extend knowledge and education to the surrounding Communities. Human Rights Studies Centre, Women Studies Centre and NSS Units are taking active roles in Field Action Programme. The teachers and students of this college are involved in the programme.
h) Career Oriented Programmes :
The Career Oriented Courses upto Advanced Diploma Level in Fashion Designing, E-Commerce, Secretarial Practice & Office Management, Food Science & Quality Control, Industrial Fish and Fisheries, Computer Application, Microbiology in Food & Environmental, Bioinformatics in Biodiversity, Mushroom Cultivation, Clinical Biochemistry, Computer & Information Technology and Spoken & Communicative English are run parallel to B.A./B.SC./B.Com/B.SC. Biotechnology/B.SC. Food Technology/BCA Courses as an add-on course.
i) Innovative Programme :
An Innovative programme(Teaching gum Research in emerging areas) is undertaken by the Department of Biotechnology in the Bioremediation of water (Purification of Pond water by culturing Azolla) and a publication of the project was brought out.
j) Human Rights Studies Centre :
Foundation, Certificate as well as Undergraduate Courses in Human Rights and Duties Education
upto Honours level are introduced in the college. A Certificate Course in Human Development is also introduced in the centre. Research work in the promotion of Ethics and Human Values is also undertaken by the
centre. These Courses can be offered by the students of this college as add-on course and all other outsider students.Organization of awareness programme, extension activities and field action programme are one of the objectives of the centre. The centre has also brought out several publications in the area s related to Human Rights.
k) Women's Studies Centre :
A Women's Study Centre is introduced in the college with the financial support of the UGC which is upgraded to the second phase. The centre has introduced a Certificate Course in Women's Studies. The centre is also conducting a research work in women related issues and brought out several publications. Organization of awareness programme is also one of the objective of the centre.
l) Colleges with Potential for Excellence:
The UGC has conferred the college the status of "Colleges with Potential for Excellence" in 2006. Under this award the UGC has sanctioned Rs.
35.00 lakhs in the 1st phase, Rs. 50.00 lakhs in the 2nd phase and Rs. 100.00 lakhs in the 3rd phase. Under the above scheme the UGC has identified two Departments i.e. Biotechnology and Computer Science as Star Departments.
m) Career, Counselling and Placement Cell:
The college has established a Career , Counselling and Placement Cell with the financial support of the UGC. The centre is under the supervision of an experience qualified teacher and counsels the students for their career options and placements.
n) Day Care Centre:
The college has established a Day Care Centre with the Financial Assistance of the UGC. The objective of the centre is to provide facilities to the minor kids of the staff of the college during the college hour.